Shoreline Entertainment Aligns with Black Wolf Media Group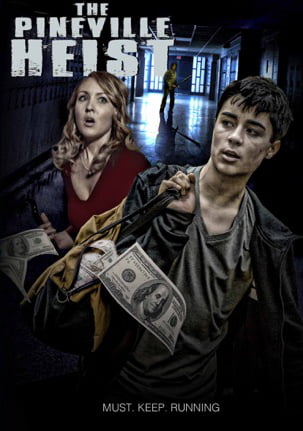 Los Angeles, CA, November 07, 2016 –(PR.com)– Shoreline Entertainment and Black Wolf Media Group have recently finalized an agreement to work in conjunction on the licensing and distribution of various international film projects. First on the slate, the pair has landed the worldwide rights to The Pineville Heist, a story by Canadian author Lee Chambers. Adapted from the highly acclaimed and best selling book which has sold nearly 50K copies, The Pineville Heist is an 80-minute adrenaline rush starring rising Australian talent Presley Massara and Hollywood legend Basil Hoffman; Massara is a high school student who gets away with millions from a botched robbery, the student is relentlessly pursued by a gang of thieves who will stop at nothing to reclaim their score.
With a limited theatrical run, this high-octane thriller has been met with rave reviews from critics, and has been selling out theatres throughout Canada, via Cineplex Cinemas. Anne Brody, of the Toronto Film Critics Association states, "The Pineville Heist is well made and exciting. It's well worth seeing!" In addition, Good Reads Magazine described the film as, "The Pineville Heist is Die Hard for teens!"
"The opportunity to work alongside Shoreline Entertainment is a dream come true; they have a very rich history in film, and I personally consider them to be in a league of their own when it comes to independent projects."
– Rio Valentine – CEO, Black Wolf Media Group
Shoreline Entertainment
Established in 1992, Shoreline Entertainment is one of the longest running and most respected companies in the film industry. With over 300 diverse films on its roster, Shoreline's lineup represents most every genre and style. Amongst them, Shoreline has represented a significant number of award-winning titles that have premiered at high-profile festivals, including, but not limited to Sundance, Toronto, Berlin, Tribeca, SXSW, Rotterdam and San Sebastian. In addition, they have had multiple films nominated for Independent Spirit Awards and Golden Globes.
Black Wolf Media Group
This Nevada based company has years of successful DVD and Television market placements worldwide. Their films have been presented to buyers and placed at Wal-Mart, Target, Blockbuster, HMV, Red Box and Amazon, in addition to many other on-line retailers. From November 7th – 9th Black Wolf Media Group will be in attendance at the American Film Market (AFM) in Santa Monica, CA. AFM is the premiere global marketplace for film, where the "who's who" of entertainment congregates to secure deals with respect to all aspects of filmmaking. Black Wolf Media Group is currently in the market for unique/original genre films, in addition to further establishing their "faith & family" division.
*For all things The Pineville Heist related, please visit www.pinevilleheist.com.
Additional information can be found at:
www.ShorelineEntertainment.com
www.BlackWolfMediaGroup.com